Our Living Room has always been a sore spot for me as a designer. Whoever laid out the floor plan for this home made it pretty clear where the furniture was supposed to go. When you walk into the room, the left wall is clear of any obstruction, but houses the cable. The wall you are facing is a short wall and has the entry to the stairs on the left and the fireplace in the center. The right wall is a wall of windows and the other wall is a half wall open to the kitchen.
My DREAM for this space is to make the following changes EVENTUALLY--
1. Move the cable to the right of the fireplace so I will have the largest wall open for furniture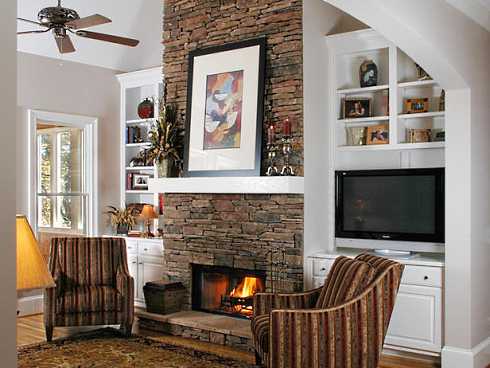 I like the TV in the alcove- not sure how it would work with our fireplace?
2. Add built ins along the half wall on the living room side for books, magazines, toys
Built Ins
3. Add some better draperies even though I spent forever making these PICTURE COMING SOON (they aren't thick enough and the dark color makes them a magnet for dog hair). Ick!
I like the light color and simplicity of these
4. Add more seating. Also Love this one from Room and Board

Love these- Target
As you can see, my style is a little ECLECTIC
Well, on to what my living room looks like at the present. It is a hodge podge of items we have had and moved with us from the beginning, items we have had given to us, items we have moved from other rooms and a few that are new, but not many.
The SOFA is a greenish/brown microsuede with two seat cushions that are removable and four back cushions that are removable. I LOVE this sofa. Not only is is long enough for my husband to lay down on, but when the back pillows are removed it can serve as a single size bed for a guest. It is super easy to keep clean and is very comfortable. It was the first piece of furniture I bought when I began working as a teacher so it has been through a few moves. I bought this one when I was already dating my now husband. The stipulation for the couch was that he could stretch out on it fully and it was cheap at $600.00 which was still a lot of money for me at the time. But, it was well worth it because it has lasted. I HATE furniture up against the wall, but it works where it is now since the TV takes up our one best wall at the moment. Sigh!!
Sofa with throw pillow from Target
The oldest piece in this space I would have to say is the CEDAR Chest we use as a coffee table. It holds additional bedding and blankets that we have no space elsewhere to store. I originally believed this came from my Grandmother's house, but my mom told me recently it wasn't the same one- needless to say I was disappointed.
Cedar Chest- really too high to serve as a coffee table, but will do for now.





The RECLINER in the corner was a fight from the beginning. It is extremely comfortable and has additional lumbar support so it's great to relax in. But, I never wanted a "fluffy" recliner. They take up a lot of space when reclined, have to fit in a corner so they can recline and in my opinion aren't that stylish. But, sometimes comfort wins over style and sometimes they go together. This chair also "fit" my husband at 6'3". Ha! Those cute chairs with the great patterns were too short for him and would not have worked.
Lazy Boy Recliner with Target throw pillow


I can't remember how much the END TABLE cost, but we got it for a deal because we bought it from a furniture store that was going out of business and it was one of the last ones they had. It has great storage in the drawer on the bottom and the open space in the middle. One downfall for kids is that it does have a glass top and it is rather large and square so it won't fit just anywhere.
End Table with open storage (the empty basket is waiting to be filled with diaper and wipes for our little one arriving soon)
I have really found myself nesting recently knowing our little one will soon be here (read more at garyandannac.blogspot.com about our adoption journey. After completing the entryway dresser redo, I decided to change the dining room we never use into a fabulous playroom. I haven't had time to design that, but I will be posting my Dream Design Board for that space soon!! So, the newly added piece to this room is what used to be our entry way table which was then a buffet table and is now a place to store kid items. The top drawers are very shallow, but are perfect for coloring books and paper as well as cards and puzzles. The lower shelves will house movies, games, and toys. This may change once our little one begins to crawl. : ) This piece is now beside the fireplace and the dark wood really adds something to the space.
Pottery Barn Outlet (A little steep at $400.00, but I just had to have it that day)




Because I knew that having items out in the open was not going to work with crawling kids or toddlers, I began thinking of new ways to store items such as DVDs that we used to have on open shelving. I found these great trunks at Home Goods on discount one day. I bought two- a large one and small one so they could be stacked. The smaller one on top now houses my husbands cords, controllers and all things gaming. The one on the bottom holds our DVDs. These are a great way to use an item created for one purpose for a new purpose. I am sure these trunks would be great holding picture albums, games and puzzles, blankets, knitting supplies- the list is endless and they make a statement.
Trunks from Home Goods
The TV is a content source of pain for me unless of course I am watching a great movie on the couch in front of a fire with a cup of hot cocoa. We bought this TV as an open box floor special. It has lasted us a long time. At first, I was completely against a TV so large. Why did we need something so large taking up our precious space? It was after all- UGLY and BLACK and BIG!! But, my husband kept saying I would like it once I watched movies on it. I hate to say he was right, but I still don't like it being the center of attention in our home. And, I worry it is too low to the floor and not study enough. We will see. For now, it stays and it rests on its TV cabinet we bought at Target. I must say it is a nice piece to have come from a retail store.
TV cabinet




For additional storage, I used pieces I already had. A basket for blankets, a large wooden bowl that belonged to my grandmother for magazines, a shallow bowl we bought in Jamaica and a box I received as a gift that came with lotion and potpourri (I keep everything!!)
Basket for Blankets
Potpourri Box for Remotes
Wooden bowl for magazines
Wooden bowl from Jamaica for remote
I will be posting a full picture of the living room as whole later on. Remember, anything can serve double duty. Keep everything! Always be on the lookout for items in your home that you can use elsewhere. There are many items that can make a space beautiful, but why shouldn't they also serve a purpose. Be creative and think outside the box. Don't get rid of older furniture, re-purpose it or refinish it and use it in a different space. In a future post, I hope to reveal a huge, square coffee table that I am (with the help of my husband and his tools) going to convert into a train/Lego table for our little one once he becomes a toddler. Someone donated it to us for our Fundraising garage sale and no one ever bought it despite us really pushing it on Craigslist as well. It has two large drawers on the bottom, is low to the ground and has open space in the middle. We are going to replace the glass top with plywood and convert the top into a train table or Lego surface. Don't ever underestimate the potential of a nicely put together piece of furniture.